Whilst I may be considered relatively new to vintage fashion, I understand the difficulty of desparately wanting to introduce it into your wardrobe, but not quite knowing where to begin! Two of my previous posts, which are both guides to vintage fashion (and can be found
here
and
here)
, introduce you to the general eras that inspire and influence my wardrobe, and detail what I particularly look for when in a vintage shop. Now comes the hard part; how to introduce it into your wardrobe!
So where did I begin?! Well, it all starts with confidence, and so I naturally deviated towards an area that I feel most comfortable with...make up! You Tube tutuorials, by my favourites Lisa Eldridge and Tanya Burr, helped to improve my general make up application techniques. I also got the chance to follow some of their more classic look tutorials. Lisa is an avid vintage fan, she herself collects vintage make up! So as you can imagine, her videos are both informative and great guides. This then gave me the confidence that I looked the part and so I delved into hair tutorials, particularly from The Cherry Dollface. If you click the You Tube icon (or
click here!)
on the top right of this page, it will take you to my channel. You can find that my most practised and trusted videos are in the 'Likes' category!
I then began to naturally deviate into slightly more vintage inspired clothing. The High Street is a known quantity and does some excellent vintage reproduction clothing! Some of my favourite dresses are High Street reproductions! I particularly love some of these...
Vine Border Sun Dress - Topshop - £38
(I really want this! Imagine in summer with a petticoat and red lipstick!)

Blush Pointelle Cardigan - Dorothy Perkins - £16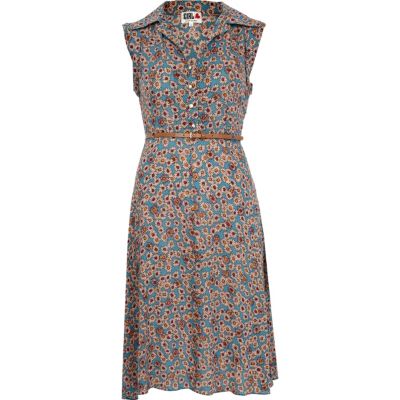 Blue Chelsea Girl Floral Print Shirt Dress - River Island - £25
(adore this too!)
Eeeeek, I am so very tempted by these now! 
As you began to build up your repertoire and wardrobe, the hardest part can be finding where to wear it all! It can be quite unnerving to suddenly step out in full vintage attire in front of people that are used to seeing you in 'normal' clothes. I personally found it much easier to make some of my bigger statements in front of those people I am very comfortable with, such as my boyfriend, family and closest friends. Personally, I began to introduce my new look when visiting particular events, such as a Vintage Fair. I found that these events gave me the opportunity to wear vintage, as I knew that I wouldn't stand out from the crowd too much. On a night out, I would wear my usual dresses, but sneak a vintage handbag or accessories in there to spice it up! It grew from there and I began to find the confidence to invest my money into more original vintage items.
I really hope you have found this post insightful and I would absolutely love to hear how you went about introducing vintage into your wardrobe, or even if this has inspired you to make the move to the vintage side!
Have a wonderful Wednesday,
Hannah xxx