Settling into bed on Saturday night, I noticed that British Drama 'Glorious 39' was on TV. Knowing I was bound to fall asleep partway though, I decided to sit down and watch it properly...and am I glad I did!
I really don't want to reveal too much of the tale, but can guarantee that it is so worth a watch. The plot is gripping, cast full of British talent and an amazing wardrobe to boot. Set on the eve of WW2 in wartime Britain, Anne, the adopted daughter of a rich and formidable family, discovers secret recordings in her Father's shed and suddenly her life dramatically unravels.
I find myself incredibly inspired by the wardrobe and understated elegance of Anne. The wealth of her family is definitely reflected in the outfit choices, from lame to silk gowns, all outfits are incredibly opulent. Simple, classic late thirties/early forties styling was made incredibly realistic by attention to detail. Anne was given a 'capsule wardrobe', so we see the same pieces of clothing being used slightly differently throughout the film. How authentic! Even better, we even see her sleeping in pin curls. How frustrating is it when we watch reproduction films were they sleep with no set but awake to incredible curls!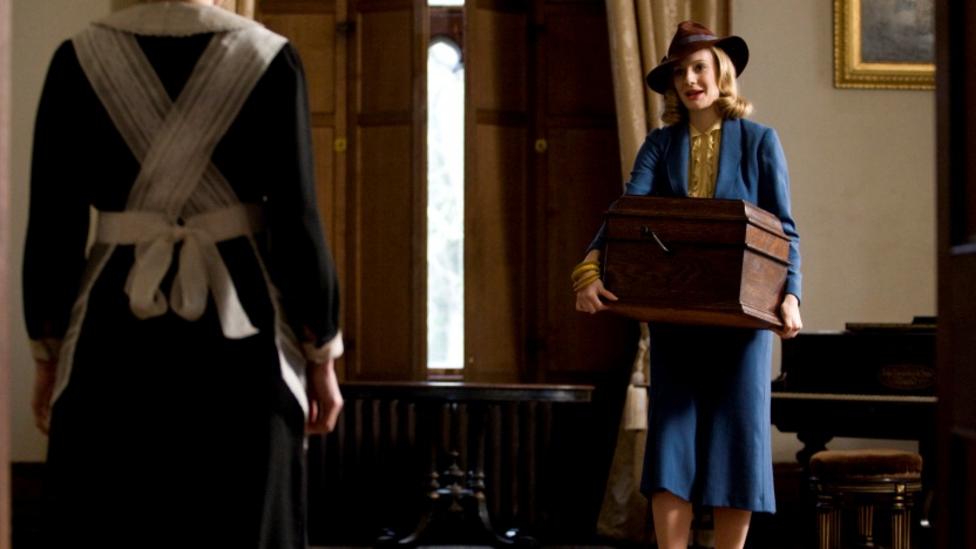 For me, the hair is absolute perfection. Not too over the top, but understated and elegant styles accessorised with wonderful snoods, berets or slides. Even better, look how few pin curls she appears to have in! In the film, she has just pin curled the entire front part of the hairline.
The make up for Anne is incredibly simple as she really is a natural beauty. For the daytime scenes, I wonder if they have used a lip stain, such as Benetint. Her eye make up also appears very simple, with the slightest bit of black eyeshadow used instead of eyeliner. Of an evening, a rich red lipstick is used (possibly Russian Red) with some more definition to the eye by a tiny bit of eyeliner and eyeshadow in the socket.
I think it is fair to say that the DVD, a red beret and navy snood are most definitely on my wish list!
Glorious 39 should be on the Iplayer this week if you catch it quickly!
Hope you enjoy,
Hannah xxx